*2011 update: Yes I did say it was worth repeating.
Slow roasted chicken breast with garlic poblano butter sauce, broccolini, and roasted garlic and herb couscous risotto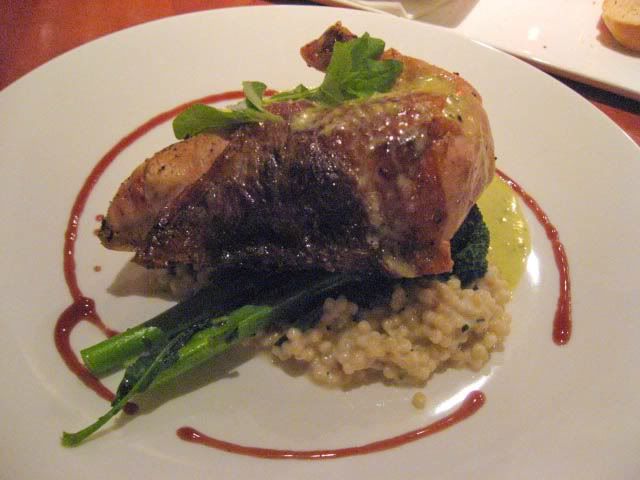 New York Striploin Steak with garlic poblano butter sauce, sauteed mushrooms and fingerling potatoes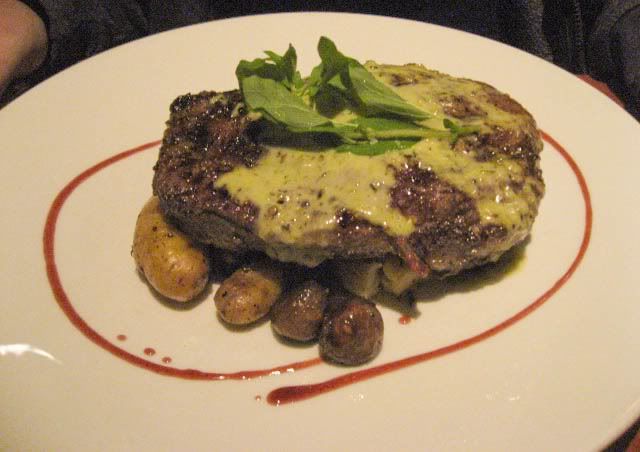 Field mixed greens: carrot, beet curls, toasted pumpkin seeds, dried cranberries, feta, and strawberry peppercorn vinaigrette.
High Country Bison Meatballs spicy smoked tomato sauce
Mediterranean pizza: spinach, garlic, tomatoes, red onions, red pepper, olives, feta cream sauce.
(Not pictured) Bread with whipped butter with red pepper, green pepper, artichoke, garlic and peppercorn.
Mascarpone Almond layered Semifreddo with Strawberry and Rhubarb sauce. My friend looked up "Semifreddo" and found out that it is an Italian semi-frozen custard. The texture really is like a frozen mousse without the cold temperature.
Lemon Tart with honey ice cream