UNA is located on 17th Ave, right next to the Mission skate shop (their sign is much larger and a good landmark).
Hours of Operation:
7 days a week
11:30am - 1am
No Reservations
I would've given full Bea's except it was pretty damn hot in there. Yes, it's an open kitchen, that's kind of what happens. But yes, we would have stayed longer and had dessert had the temperature been cooler.
There was no wait time for us, mind you it was a weekday and a bit early (6:30ish). Here are some fantastic things that UNA provides:
a) Twitter feed (They will actually tweet the wait times for a table)
b) Free Wifi
c) Purse hooks (sitting at the bar)
Q water (Sparkling) alternative to bottled water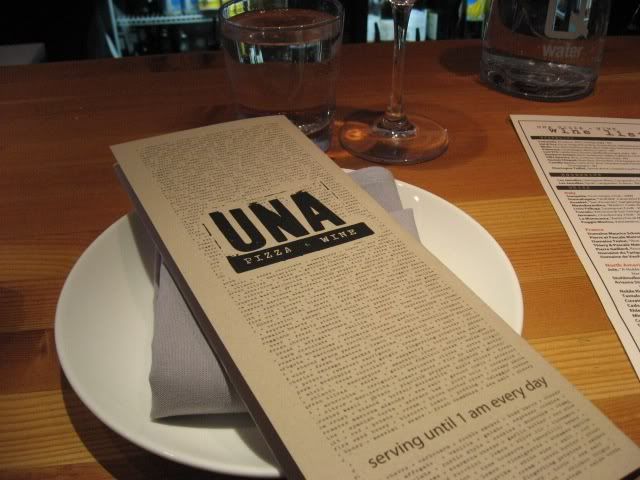 Prosciutto wrapped (walnut)stuffed dates. $2/date. It's a good amuse bouche, very sweet, there is a bit of sea salt on the edge that isn't pictured.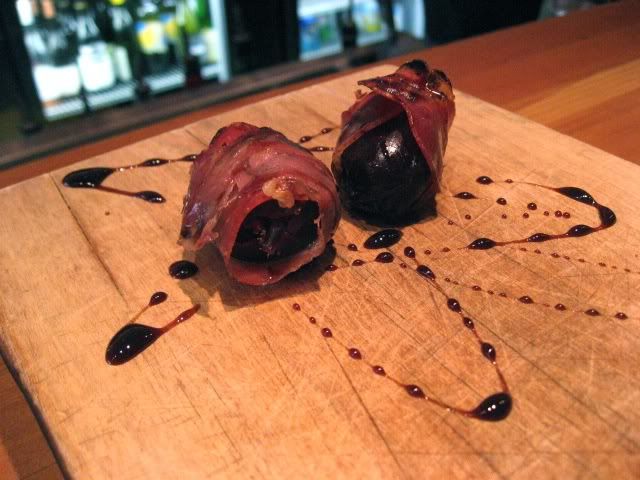 The top is the Mushroom: roasted cremini mushrooms, carmorza & grana padano cheese, fresh arugula, and truffle oil.
Delicious, one that I will definitely have again
The bottom: Swiss chard: double smoked bacon, wilted swiss chard, goat feta, provolone piccante.
This one was pretty good too, my cuz was not a huge fan of the goat feta, and I thought it would be good without the bacon. But overall still very yummy.
Note on the pizza dough. Best. Ever. It's thin, slightly crispy and manageable (compared to Famoso where you cannot pick it up with your hands)
Since you can't really see the swiss chard. Here's a close up of a slice.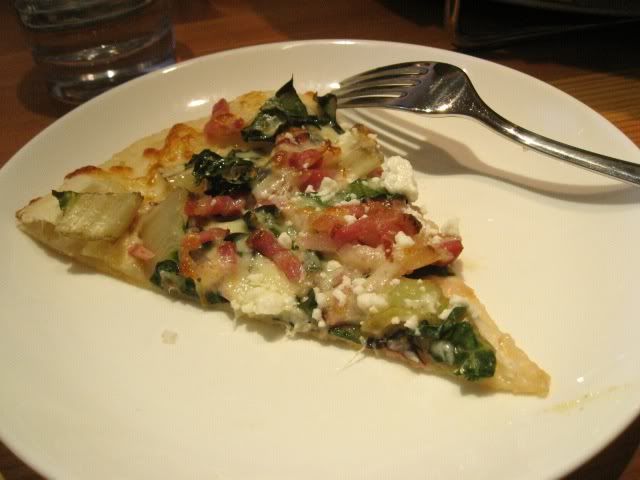 I can't wait to revisit this place on a cooler evening :)
*Also, just wanted to point out that the service here is outstanding. Definitely a treat for customers.