Cuz there ain't no party like an S club party! Okay, no not that awful song. This restaurant in Kensington is located across from the Kensington Wine market as well as next to UNA SARO office (hint hint to my co workers-what a great place for sushi).
According to Urbanspoon, Sushi Club K'z is closed on Tuesdays, Lunch and dinner MWTF, Dinner S&S.
I took 1 Bea away just because parking here is tricky and ambiance is okay, hilarious dining experience= Japanese restaurant with french folky music. The fish is fresh, menu has a variety of rolls and sashimi. The most important thing is, this is fresh, fresh, fairly priced sashimi/sushi. Definitely will revisit this place!
Let's start with beer. Special import from Japan, now I don't like the taste of beer, but this did not taste much like beer, dark in colour, port-like. The Baird website describes this as:
Kurofune is the word Japanese used to describe the American gunboats that came to open Japan to Western trade. Kurofune Porter is sleek and forceful, but leaves a winning bittersweet taste of chocolate and coffee on the tongue.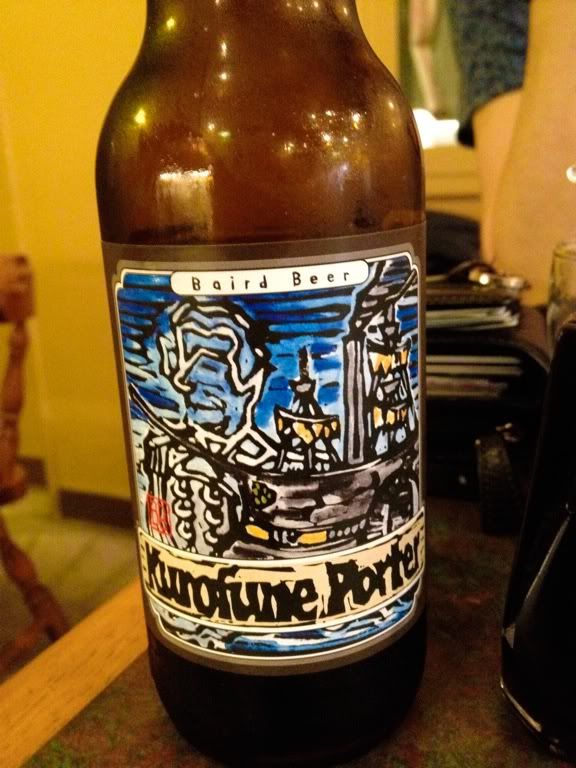 The main event, 4 rolls on one plate.
From the far left to right: California roll(sesame outside), Stampeder roll (tuna and roe on the inside, avocado, ebi and salmon on the outside), Spicy tuna roll (Avocado and tuna on the inside), and finally the roll which I forgot the name (Bonito flakes on the outside, salmon and alfalfa sprouts on the inside). Top right corner is the 2 pieces of Toro.
The Toro was not bad, small pieces.
Spicy Tuna was not overly spicy and the tuna is marinated in spicy sauce.
The bonito roll... I forget that shaved dry bonito flakes are fishy and spicy and taste better
in a soup.
Aside from burning my tongue, it was still really good!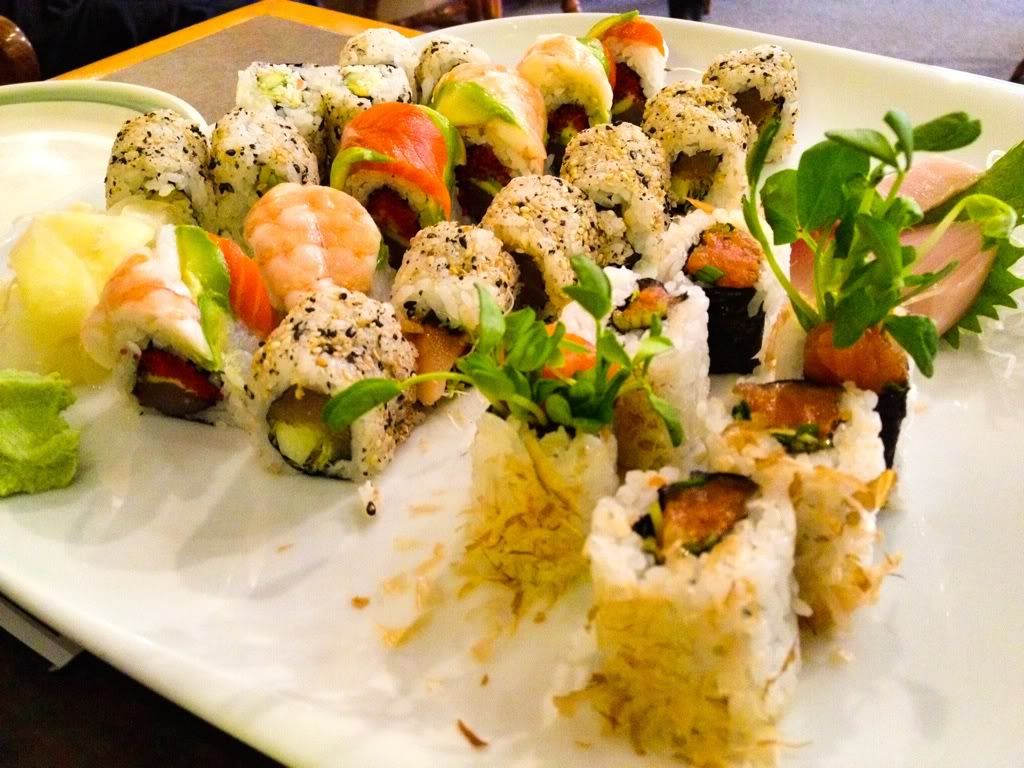 1/2 Giant Roll: Kensington Neighbourhood roll.
One of those impossible rolls you can't really pick up without it falling apart.
Lots of fresh fish inside with 3 colours of fish roe on the outside.