After the ridiculousness at the
swimming pool
, it was a nice treat to check out Model Milk on 17th Ave.
Best way to describe the location:
East of 4th St SW, Across from the funeral home, Giant white cow head over the door. Street parking is free after 6pm.
308 17th Ave SW
Reservations are limited,
5pm- 1am Mon-Sat
5pm- 10pm Sun
(403-265-7343)
I'll have to return to try out different seats in the restaurant and of course try the rest of the menu!
They do take walk ins, from what I was told, only around 30% are reservations.
Having no reservations (6:30pm), we were seated in no time.
I would have liked the chef's table seating upstairs, but the main dining area was fine.
It's rather a large restaurant easily seats 150 people. Not pictured here is the very small patio area. I believe this side of 17th Ave is quieter than the side west of 4th St SW.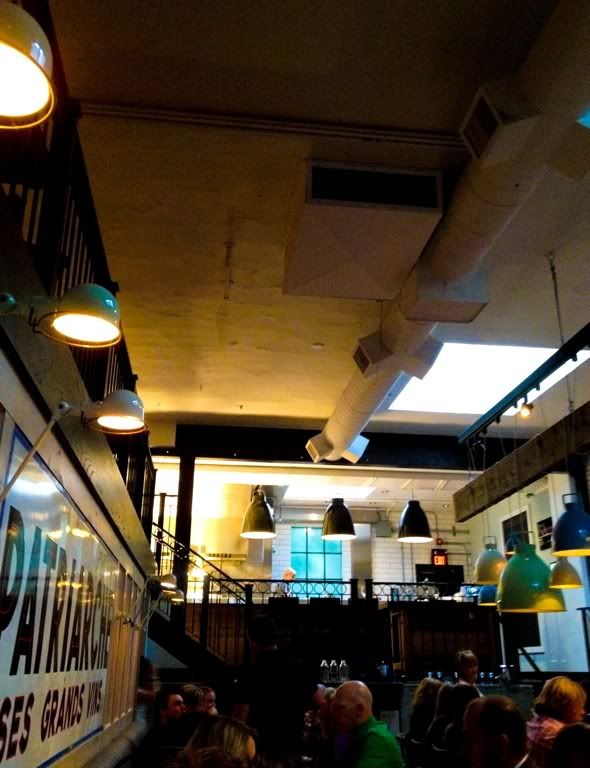 These menus were really adorable, fixed on a piece of wood. The menu changes, so what is posted on line is not necessarily current.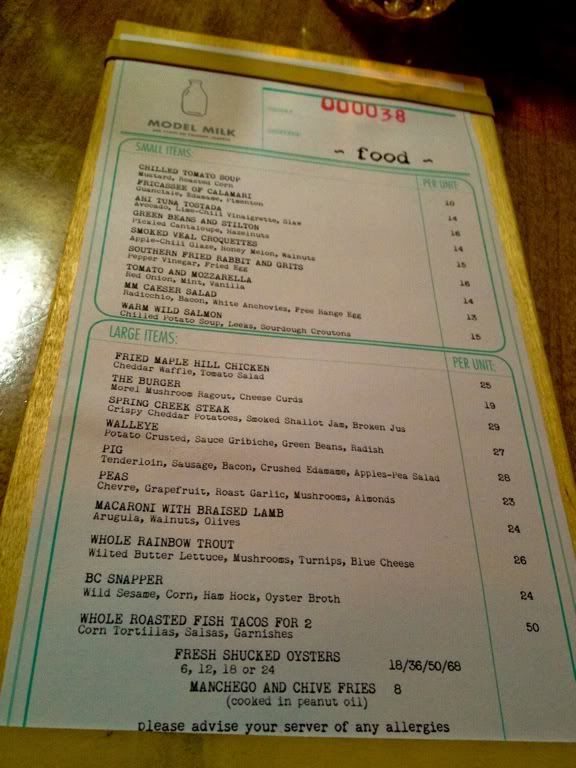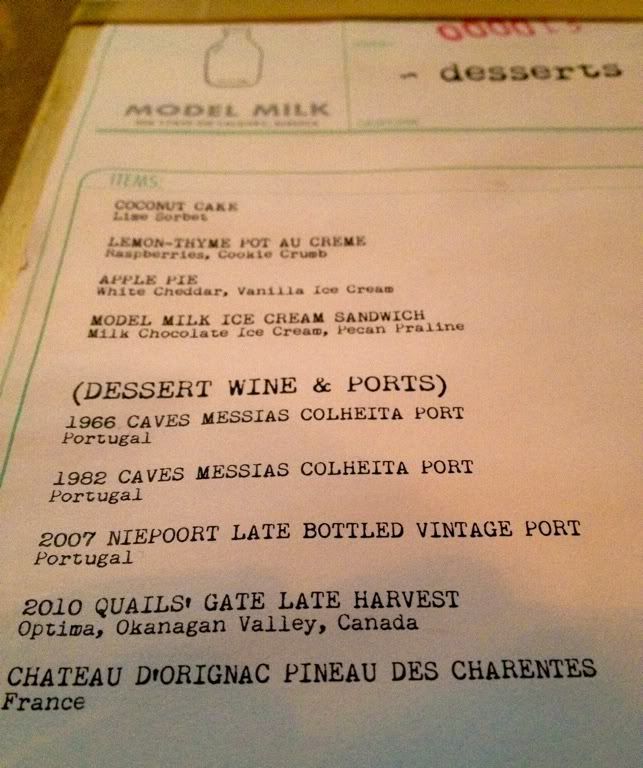 Fricasse of Calamari-
guanciale, edamame, pimenton
: I'm usually a calamari fan, but I don't really enjoy it without the breading. It was not bad, but very reminiscent of Chinese style grilled squid. Fricasse= stewed, guanciale= similar to pancetta, love the crunchy texture, not overly salty.
Some other crunchy bits like garlic croutons.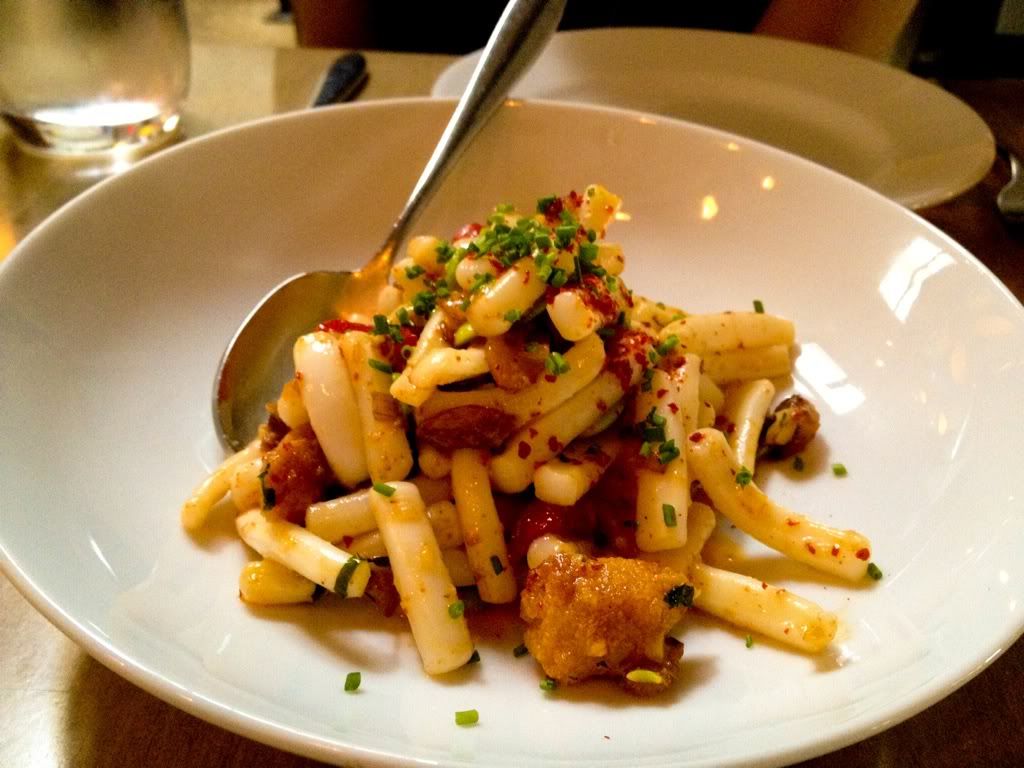 My main course.... PIG! Which is actually pork tenderloin, sausage, bacon, crushed edamame, apple-pea salad. Crushed edamame tasted more like pea than edamame, the smell of the tenderloin hit me right away, very smoky. The apple salad was pretty mild, the pork just commanded this dish (As it should). Definitely happy with my meal.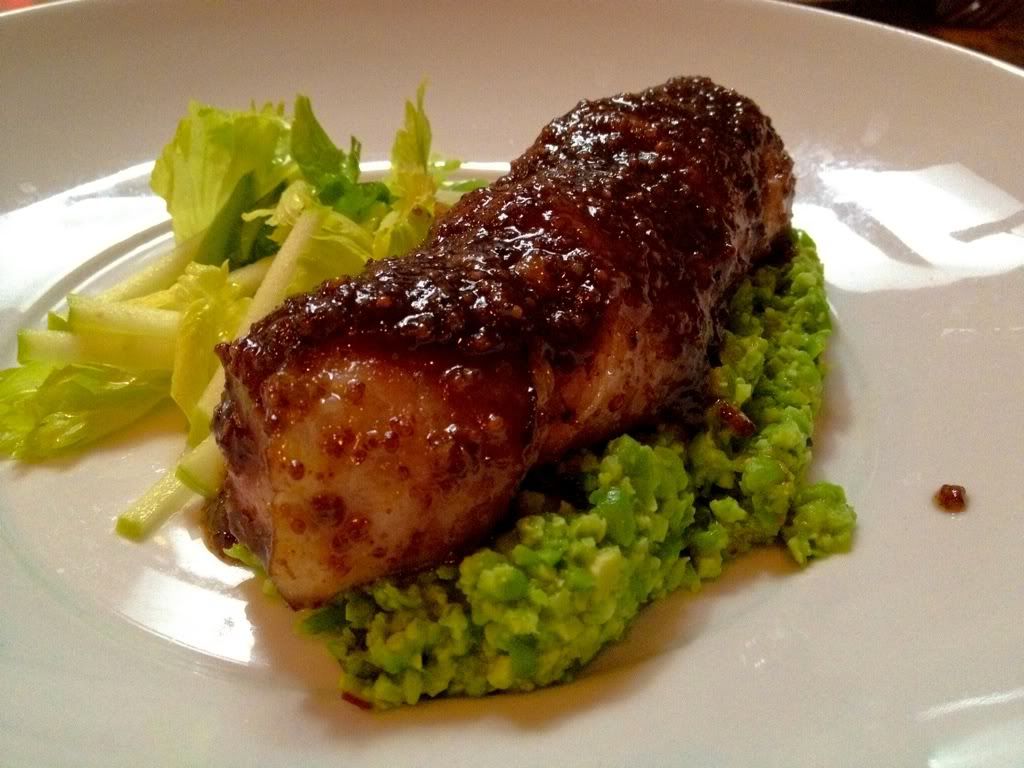 My friend liked "The Burger" (
morel mushroom ragout, cheese curds). I love that Model Milk is so far the only Canadian restaurant that I have been to that asks you how you want your burger done. Only in the US have they offered the 'wellness' of burgers. I tried the fries, very crispy! Whoops, I missed the milk bottle design on the plate! Ah!
Model Milk's Milk chocolate Ice Cream Sandwich with pecan praline! Very glad that we shared this because it's pretty big!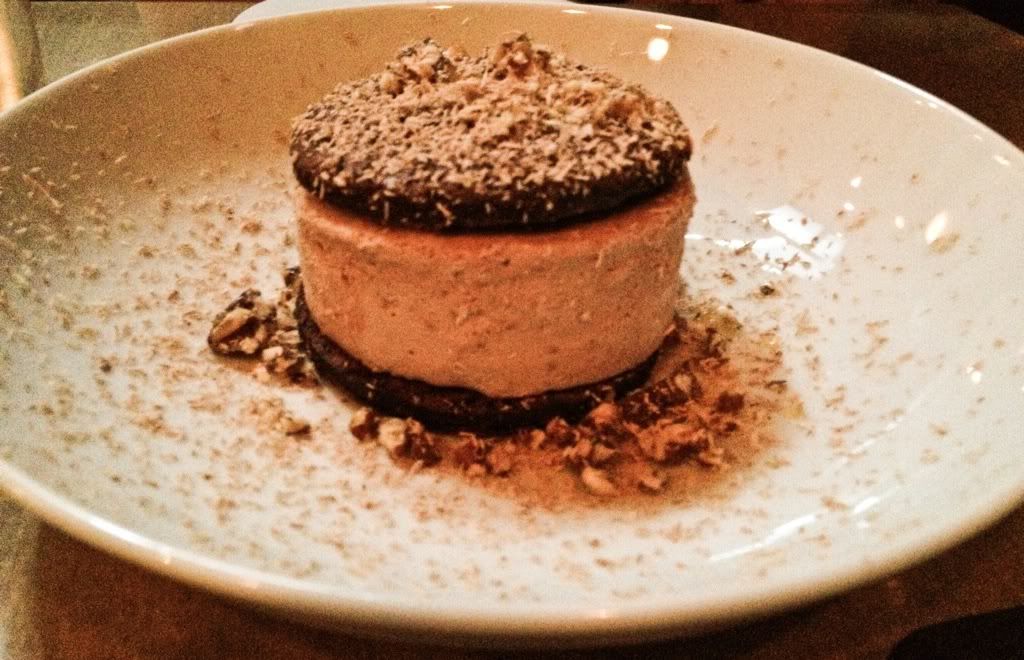 I should have paid attention to
Anna's Appetite blog
as she describes her visit to Model Milk and the background about the historical building. Dubbed the Model Milk building, built in 1932 by a dairy farmer selling milk directly to customers during the depression, it was also a milk bar up until 1965.
I probably could have avoided the calamari had I looked at this sooner!