So apparently this is the closest to my locale, where I can find good Frozen Yogurt! All the way in Airdrie, thank goodness it's still close to Calgary.
Alright friends, here's what makes no sense to me.
Menchie's locations include Airdrie, Red Deer and Grand Prairie.
Edmonton has 3 chains of froyo: Tutti Fruitti (5 locations), Pinkberry, and Twisted Yogurt.
Calgary has.... NONE.
There used to be a mediocre place called Spoon Me, but obviously they shut down (not surprising since it was not serve yourself and had 3 mediocre flavours to choose from).
Why doesn't someone open up one of these obviously successful chains???
Anyways, enough of my rant. Love love love Menchie's. It's a really small place so finding a seat is just about impossible, especially since business is booming. The ominous rain clouds and 17 degree weather didn't hinder the business. Self serve stations similar to
Tutti Fruitti
and
Yogurtland
.
I was pretty happy with their flavours (changing regularly). Red velvet, Marshmallow, Raspberry Lemonade, Watermelon, Creme brulee, green apple tart...
The topping bar includes cereal toppings, fruit, cookie dough, cheese cake bits, exploding boba, my favourite mochi balls and an assortment of other typical toppings.
Mochi balls and cheese cake bits on top of a mix of masrhmallow, creme brulee, green apple tart and a twist of watermelon and raspberry lemonade froyo.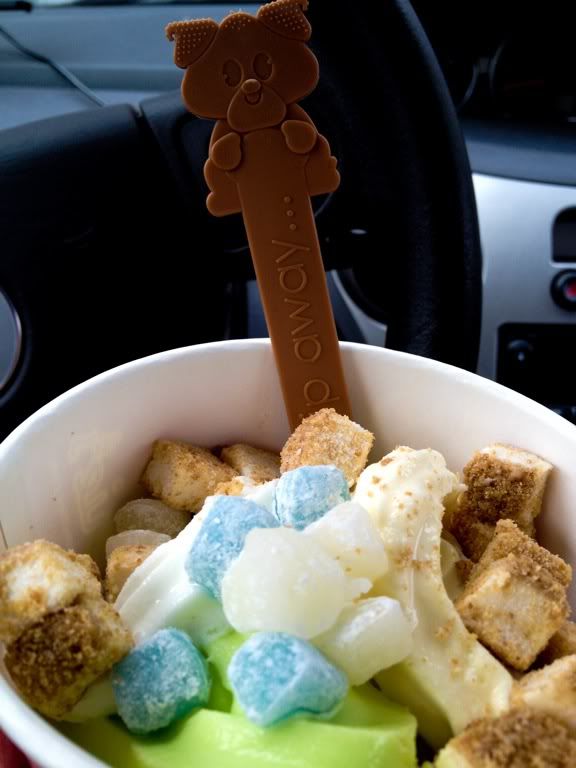 This is the first place where I have seen them offer a Waffle bowl!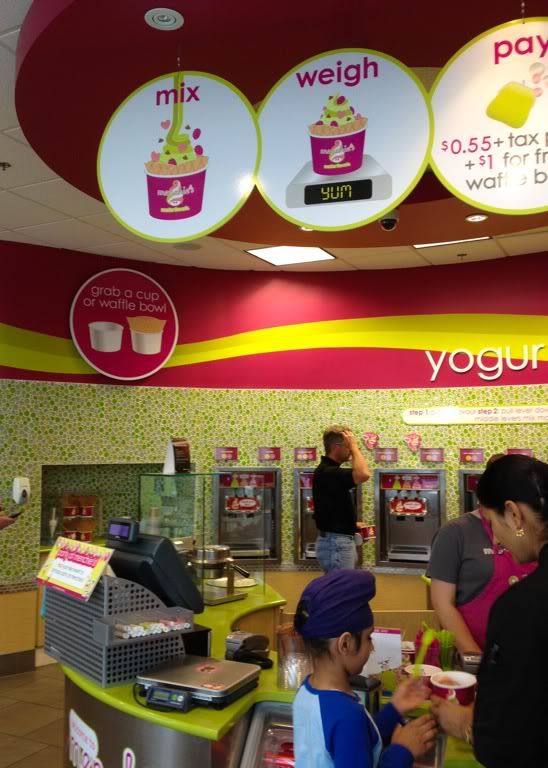 The spoons were adorable.